Tripurari Enterprises Instruments Ozone (O3) analyser measures ambient O3 concentration in ppb level by utilizing UV photometric absorption technology.
Key Features:
• Accurate direct UV absorption with reference comparison
• Various outputs include Ethernet and RS232
• User friendly interface with large screen
• Continuous system diagnosis with alarm
• Multi-tasking software allows viewing test variables while operating
• Temperature and pressure compensation
• Internal data logging with 1 min to 365 day multiple averages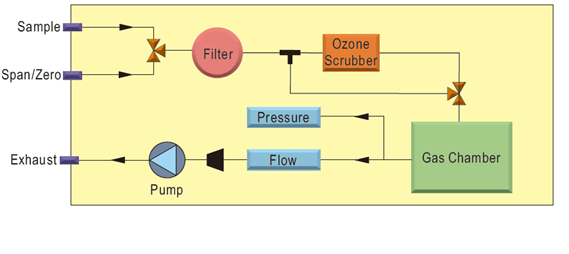 Principle:
The concentration of ambient ozone is proportional to UV light absorption since there is a significant characteristic absorption for ozone on wavelength of 254nm. Periodical diversion on sample flow passing through the ozone scrubber will generate reference measurement, which is compared with sample measurement to provide stable and representative result.